Understanding medical desertification through consensus-building sessions in Campania and Sicily (Italy)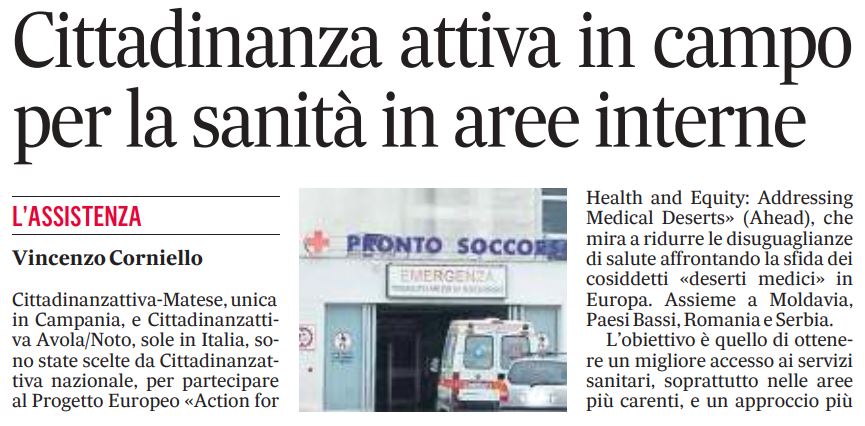 Medical deserts are still an unknown concept in Italy. This is one of the conclusions from AHEAD partner Cittadinanzattiva's research on medical deserts and their pilot project activities on consensus-building in Campania and Sicily. During these local consensus-building sessions, Cittadinanzattiva interviewed local stakeholders about their understanding of and perspectives on medical desertification in the two regions in Italy. The outcomes of these sessions confirmed what Cittadinanzattiva found through an analysis of the shortcomings of territorial assistance in Italy. Cittadinanzattiva identified several common patterns and trends which implicitly refer to medical desertification. Above all, three main characteristics in most research articles were: shortage of healthcare personnel, insufficient healthcare services, and lack of adequate territorial assistance, especially in underserved areas. Other key factors involve uneven and fragmented regional health services in rural areas, poor access to medical care and services, scarce prevention and follow-up, and acute hospitals and medical facilities unable to adequately meet safety and quality standards. Geography also appeared to be a key determinant; in fact, distance and rurality represent barriers of cost, time and inconvenience for patients in accessing primary care and prevention. AHEAD will use these findings for wider/national sessions, to ultimately achieve co-created policy options to address medical deserts.
The Italian paper Il Mattino published an item about AHEAD, you can read it here (in Italian).
How can participatory consensus building contribute to successful policies to counteract medical deserts?

One of AHEAD's unique selling points is our participatory consensus building methodology.
It is known from literature that successful implementation of health workforce policies requires strong inter-sectoral governance and consensus building among the different stakeholders involved. As a consortium, we have therefore set out to draft, test and validate a consensus building methodology, in order to increase the chances of successfully counteracting medical deserts.
With the consensus building methodology, we aim to achieve the following:
Implemented in the AHEAD partners' countries, it contributes to the identification and development of practical, feasible and context-specific policy options, that will support policy makers in their decisions on health workforce issues.
Implemented, contextualised and evaluated across the AHEAD partners' countries, it will result in a validated methodology, that we will share in a practical guidance document, so that other organisations can apply the same methodology in their own context.
This method consists of two phases at local level and one at national level, all with facilitated dialogues:
Phase 1 (local level): Dialogues among groups of community representatives, among health workers and health managers and among local policy makers/policy implementers to discuss country research findings and set priorities.
Phase 2 (local level): Representatives from each group come together to discuss their priorities and jointly agree upon a priority of policies representing "the ideal mix of measures", including advantages and trade-offs.
Phase 3 (national level): Discuss and select measures in a dialogue between local and national level policy makers.
We will share more on consensus building on a new page on our website. Stay tuned!
Join our webinar on September 16: What are medical deserts and how do we find them?
During an interactive webinar on September 16th – with a keynote speech from Katarzyna Ptak-Bufkens of the Directorate-General for Health and Food Safety (European Commission) – we will share key takeaways from our country reports on medical deserts in the countries on which AHEAD focuses on: Italy, Moldova, the Netherlands, Romania and Serbia.

Aysel Rahimli, project coordinator of the AHEAD project at Wemos, will present our country report findings. Stefan Mandic-Rajcevic, data research analyst with an MD from the University of Belgrade and a Ph.D. in Occupational Medicine and Industrial Hygiene from the University of Milan (Italy), and part of AHEAD partner Media Education Center, will moderate the webinar.
During the webinar, we will:
Show the different manifestations ('faces') of medical deserts in Italy, Moldova, the Netherlands, Romania and Serbia.
Share the key findings of our country reports on medical deserts in the abovementioned countries.
We look forward to seeing you there!
Date: Friday September 16th, 2022
Time: 10:30 – 11:30AM (CET)
Language: English
Register here!
Our contribution to the European Health Parliament's 7th round of policy recommendations on a resilient European Health Union
The European Health Parliament (EHP) has released the 7th round of Recommendations on Recover, Reinvest, Reinvent: Creating a resilient European Health Union. AHEAD project coordinator Aysel Rahimli from Wemos (lead organisation of the AHEAD consortium) contributed to the theme 'Future-proofing health systems', highlighting the need to address medical deserts in the European context. Read the EHP7 policy recommendations here; and the policy recommendations on future proofing health systems here.
EHP is a movement connecting and empowering the next generation of European health leaders to rethink EU health policies. It provides the next generation of European leaders with the connections, knowledge and platform they need to build a healthier and more innovative Europe.
AHEAD-Media Education Centre, Obilicev venac 21, 11000 Belgrade, Serbia
Copyright © 2021 AHEAD, all rights reserved
Unsubscribe