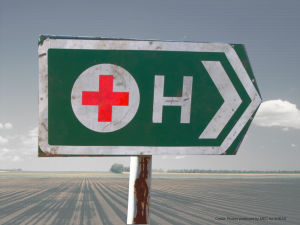 European regional disparities in healthcare are increasingly calling for the attention of the European Union and World Health Organization European Regional Office. Various European countries' health care systems are becoming overburdened, due to the demographic and epidemiological transition: an ageing population in combination with an increase in chronic diseases and multi-morbidities that require long term care. Furthermore, the health workforce itself is ageing, resulting in waves of retirement of health personnel, adding to the strain on the health workforce. These challenges occur within the context of persistent budgetary constraints and financial cutbacks that compound broader migration patterns and are causing severe health workforce shortages.
Europe's 21st century challenge: medical desertification
In this context, several EU regions are facing the issue of 'medical deserts' and medical desertification, i.e. 'isolated or depopulated areas and urban and rural areas with a low concentration of services'. They are further characterized by a falling number of medical practitioners, inadequate composition of healthcare professionals' teams to serve the local population, and no or little access to digital technologies that could support healthcare provision.

The trend of medical desertification in the EU is likely to intensify over the coming years. It is therefore urgent to promote evidence-based reforms to address the European health workforce challenges, through actions specifically focusing on medical deserts, i.e. focusing on those areas and communities that are left behind. Evidence is key; the AHEAD partners will conduct thorough research into the different manifestations of medical deserts in our partner countries, including their root causes. This will help us and our allies to develop adequate solutions.