On March 16-17th 2023, AHEAD and the South-eastern Europe Health Network (SEEHN) gathered for a two-day roundtable discussion in Tirana (Albania). Attending in-person, AHEAD representative Sergiu Otgon (human resources for health expert, National Public Health Agency, Republic of Moldova) presented our project findings, Medical Deserts Diagnostics Tool and consensus building methodology to representatives of SEEHN. Corinne Hinlopen (global health advocate and AHEAD project lead, Wemos, Netherlands) and Milena Šantrić Milićević  (professor at the Faculty of Medicine of the University of Belgrade, Serbia) attended the roundtable online.

SEEHN is a key stakeholder in our project, as 3 out of 5 project countries belong to this region: the Republic of Moldova, the Republic of Serbia and Romania. Sharing knowledge gained in the project is important to ensure we contribute to solutions to address medical deserts in the South-eastern European region.
Countries in the South-eastern European region struggle with common problems in their health systems, relating to the process of medical desertification, including lack of health professionals, increased distances to health institutions and long waiting lists. National stakeholders are therefore in search of sustainable solutions to medical deserts in this region. The roundtable was a great opportunity to share AHEAD's added value and the results we gained during the last two years, and to foster future collaborations.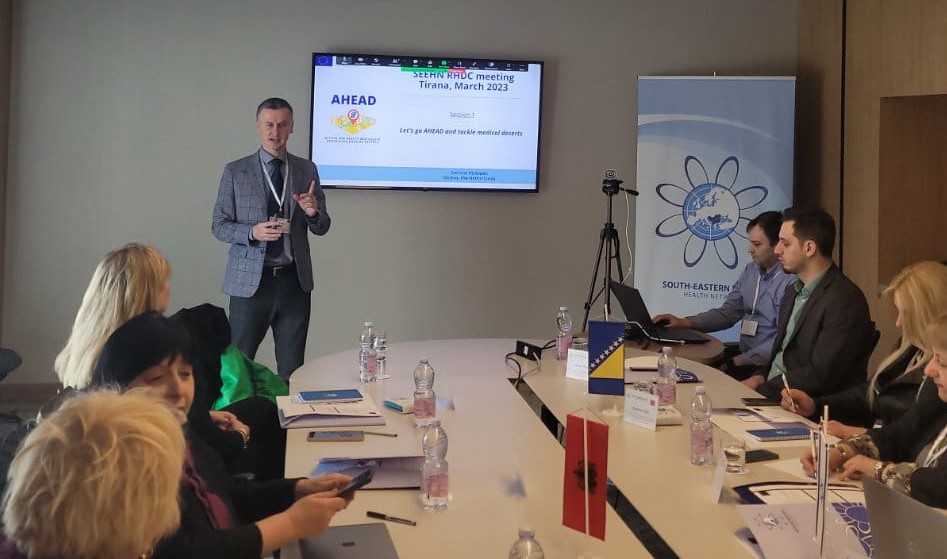 Sergiu Otgon: "This regional meeting was a great success and experience for the Moldovan team and me personally. The knowledge that we shared as AHEAD was met with SEEHN's professionals' willingness to listen, learn and implement AHEAD's key findings, tools and strategies. Being a Member State in SEEHN, stakeholders of the Republic of Moldova will also benefit from the good practices and experiences shared during the roundtable in Tirana."
Corinne Hinlopen: "I was particularly encouraged by the level of interest in the AHEAD Medical Deserts Diagnostic Tool and the suggestions from the audience on how to improve and refine it. SEEHN demonstrated a keen interest to learn and apply the lessons from our project. Which is encouraging, because many of them struggle with medical desertification themselves. Let's hope our presentation has sparked action to tackle this challenge!"
AHEAD and SEEHN will continue to support each other and explore collaboration opportunities. Keep an eye out on our website and socials channels!